---
ZINGARO NATURE RESERVE
---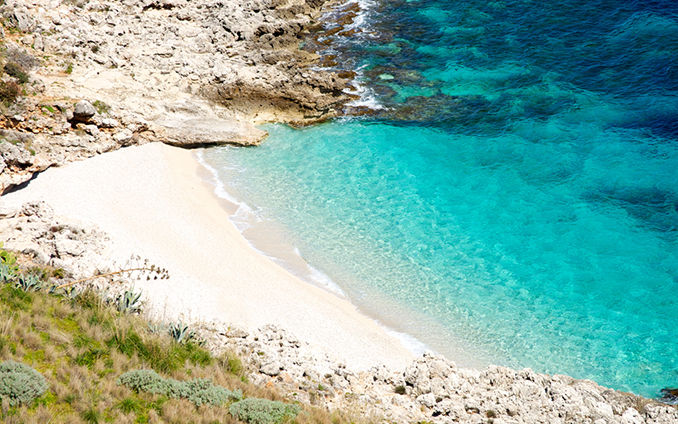 In 1981, the Zingaro Nature Reserve was the first reserve to be established by the Region of Sicily and is managed by the Regional State Forestry Commission. It covers much of the town of San Vito Lo Capo and to a lesser extent, the town of Castellammare del Golfo.
As regards the flora of the Zingaro Nature Reserve, the landscape was originally composed of Mediterranean forest, but today small ferns, cyclamens, and holly bushes can be found together with other species.
But the more particular aspect of the vegetation in the Zingaro Nature Reserve is the presence of scrublands of dwarf palms and the Hairy Thorny Broom. There are also traces of spanish broom, wild thyme, bay, mallow, wild fennel and capers. In the Zingaro Nature Reserve, almond trees and vines have been planted for cultivation.
The fauna includes 39 species of birds including peregrine falcons, buzzards and other birds such as ravens, hooded crows and thrushes. Among the nocturnal species of the Zingaro Nature Reserve are the little owl and the tawny owl. Rabbits and foxes are in abundance. The reserve has many caves where different species of bats have found their ideal habitat. Among the reptiles the viper is widespread.
The Zingaro Nature Reserve does not only include the land, but also the sea and beaches, which stretch along the coast for almost 7 km. They are beautiful, they are almost all sandy and lapped by the clear blue sea, and can be reached along various, rather steep paths.
The Zingaro Nature Reserve is equipped with picnic areas, but it is absolutely forbidden to bring pets, because they can be easy prey for wild animals.
For those who also wish to partake in cultural activities, within the Zingaro Nature Reserve you can visit the Museo Naturalistico (Nature Museum), the Museo delle attività marinare (Museum of maritime activities), the Museo della civiltà contadina (Museum of farming civilization), the Museo della manna (Museum of the manna) and the Centro di educazione ambientale (Centre for Environmental Education).
Opening Times and pricing
All days : 07.30 - 19.30
Entry fee:
€ 3,00 per day
Tel. +39 0924 35108
---