---
SELINUNTE
---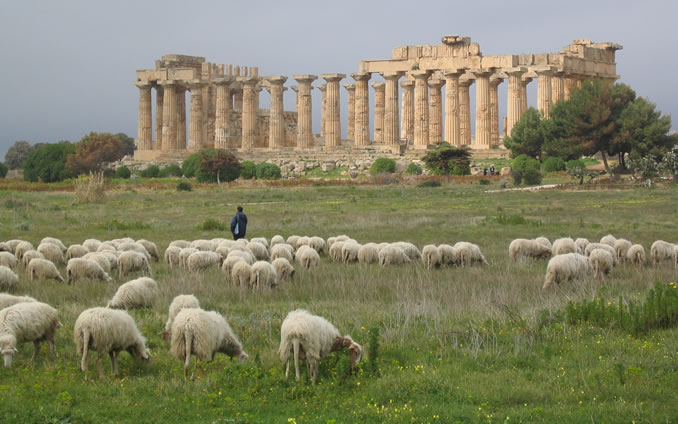 Selinunte was a Greek city, which was founded in 650 BC, but its life was rather short, about 240 years of history, until it was absorbed by the Carthaginians in 250 BC
Its inhabitants were evacuated and transferred to Lilybaeum (now
Marsala
) and its boundaries were merged with those of the other Roman towns that the Carthaginians held in the area. From this moment on Selinunte was never inhabited again.
The tourism that dominates in Selinunte is twofold: on the one hand we have an archaeological tourism that sees many tourists visit the temples and the remains found in the archaeological area, the other a seaside tourism, with the presence of two seaside resorts, Marinella di Selinunte and Triscina di Selinunte, which are sought after destinations due to their beaches with a crystal blue sea and fine sand.
The archaeological park of Selinunte is one of the largest in Europe and tells the story of this city through its ruins.
Of particular importance are the temples located on the eastern hill, which collapsed following an earthquake in the medieval period.
Later, thanks to restoration work carried out over 50 years, part of the "temple E" was rebuilt, providing an overview of its probable appearance in 500 BC
On the western hill there are the remains of what once was a temple dedicated to the goddess Demetra Malophoros. The area of the acropolis and necropolis are also worth visiting.
Also of importance in the area is the presence of a tower, called the "Casa del Viaggiatore" - "House of the traveller", because until a few years ago it was a guest house for visitors and scholars, who stayed in Selinunte. Today it is a museum. This tower was designed by the architect Camillo Camilliani for defensive purposes.
Opening Times and pricing archaeological park
All days: 9.00 - 18.00
Entry fee:
€ 6,00 Adults
€ 3,00 Reduced
Tel. +39 0924 46540
---