---
SAN VITO LO CAPO
---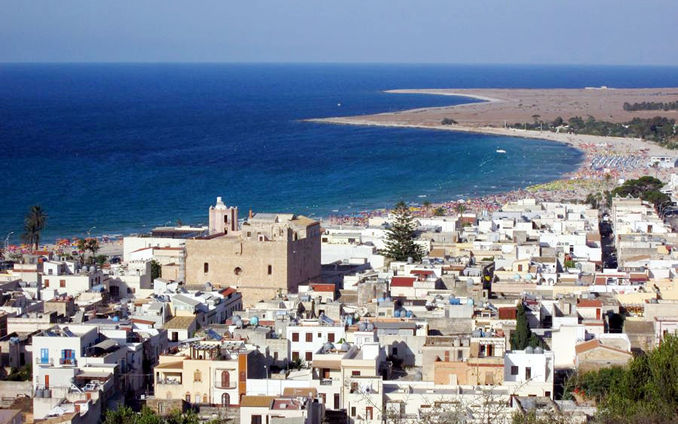 San Vito Lo Capo was founded as a municipality in the thirties by the fragmentation of the large town of Mount St. Giuliano, which then included most of the areas of the "agro-ericino" (the countryside around Erice).
San Vito Lo Capo is the tourist town par excellence of the province of Trapani, with one of the biggest tourist presences in the area.
This is due to careful tourism planning, but also because of its white beaches of coral origin, where you can admire the palm trees that makes it seem as if you were on a tropical beach.
The beauty of the beach and the purity of the crystal blue sea have led to San Vito Lo Capo receiving the 5 sails of Legambiente for several years in a row. In addition, users of the travel portal Tripadvisor have crowned it the best beach of Italy and 5 the most beautiful beach in Europe.
The events of San Vito Lo Capo have been cleverly deseasonalised, covering a period of 6 months from the Kite Festival in the spring, the San Vito Climbing Festival in the autumn which closes the season.
But of all the events in San Vito lo Capo, the most important is the Cous Cous Fest, a major culinary event, which sees top chefs from around the world preparing couscous. With this intelligent program of events, the numbers of tourists have increased dramatically over the last fifteen years.
Tourism is an industry that knows no crisis, and the number of tourists has increased contemporaneously with the increase in accommodation and restaurants.
Going back to the subject of the Cous Cous fest, held in late September, it has a turnover of 7 million Euros and has been the subject of studies and publications, as people involved in it see it as a successful model for sustainable development .
In addition to Cous Cous Fest another event that has achieved some international fame is the of kite festival of San Vito lo Capo, which starts in May as a travelling show in Sicily, and ends in San Vito lo Capo.
To reach San Vito lo Capo, the resort is located 90 km from Palermo airport, and about 65 km from Trapani Airport. There are frequent bus connections from Trapani and Palermo, as well as several private companies which organize convenient transfer services to individuals and groups to and from San Vito lo Capo.
---