---
THE BEACH
---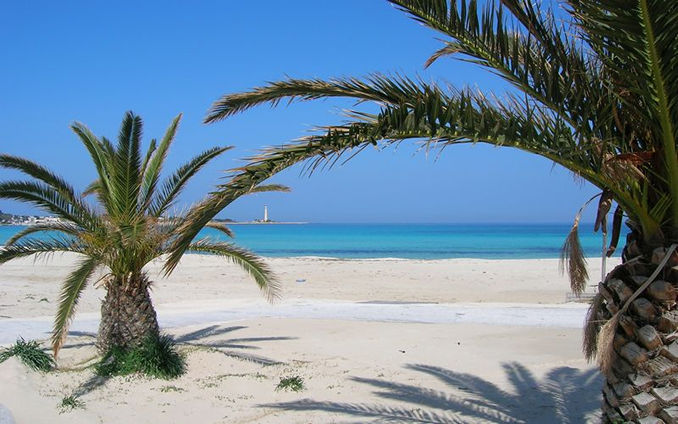 San Vito Lo Capo is the tourist destination par excellence in the province of Trapani with the most beautiful beach, which earned the 5 sails recognition of Legambiente also in 2012.
Thanks to this recognition and the Italian Touring Club, the beach of San Vito Lo Capo has been inserted into the 12th edition of the most prestigious guide in the tourist sector which lists the most beautiful beach resorts and dive sites in Italy.
As if that was not enough also for 2012 visitors on Trip Advisor have honoured , San Vito lo Capo for the second consecutive year, declaring that its beach is the most beautiful in Italy. There could be no better advertisement for the beach of San Vito Lo Capo, and indeed that these awards are merited as it is a white sandy beach of coral origin surrounded by palm trees.
To this we must add a crystal clear blue sea that allows the beach of San Vito Lo Capo to be compared to any location in the Caribbean.
Very characteristic is the fact that the beach is enclosed in a small bay between the Zingaro Nature Reserve and Mount Cofano.
The beach of San Vito Lo Capo is well equipped with bars, restaurants and beaches, where enthusiasts can enjoy various water and beach sports.
The town of San Vito can be reached by taking the SS 187 from Castellammare del Golfo, Erice direction.
The spectacular beach of San Vito lo Capo is not limited only to the coastline of the village, but stretches also to the fractions of Castelluzzo and Macari, which together represent the most scenic stretches of beach along the coast of Trapani. The municipality of San Vito Lo Capo gave the name of Santa Margherita Bay to this area, because there is a votive chapel dedicated to the Saint.
To enable an eco-sustainable usage of the coast, the City has established traffic regulations, stating that from the 1st of June to the 30th September the area is closed to traffic from 8.30 to 20.30.

---