Trapani province itineraries

To find out what to do in the province of Trapani we have selected 4 itineraries for you, createded for hotel-trapani.com by a well-known tour operators in the city.

The itineraries are complete in every detail and include a printable .Doc document that you can bring with you on holiday.
The routes are divided by interest, but they can also become the starting point for the tourist who can then create his or her own customized itinerary.
Each tour includes a mini map of the province of Trapani in order to see the exact location of the places to visit.

If you're looking for maps, timetables, kilometric charts and other resources, you can visit our Resources and Maps page.

Archaeological Itinerary
(Trapani, Erice, Mothia, Segesta, Selinunte)

Last: 6 days

Nature Lovers Itinerary
(Trapani, Isole Egadi, San Vito Lo Capo)

Last: 5 days

Short Beach Itinerary
(Trapani, San Vito Lo Capo, Favignana)

Last: 6 days

Long Beach Itinerary
(Trapani, San Vito Lo Capo, Scopello, Erice, Isole Egadi, Marsala )

Last: 8 days

MAP OF TRAPANI PROVINCE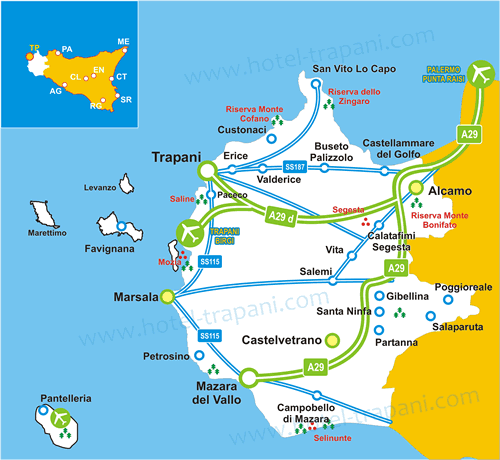 BEST HOTELS AND B&BS

Apartment Casa Lombardo


Via Colonnello Romey, 18 - 91100 Trapani


Large living room with kitchenette, table, sofa bed and TV, bedroom, at the entrance there is a very ...
B&B Ai Lumi


Corso Vittorio Emanuele, 71 - 91100 Trapani


The Bed & Breakfast is located in the historical heart in a palace. Ideally located just a few kilo ...
Hotel Divino


Via Marsala, 271 - 91100 Rilievo (TP)


The province of Trapani is one of the areas of Europe with the largest production of grapes, and the ...
B&B Scalo Vecchio


Via S. Giuseppe 9 - 91010 Marettimo


Immersed within the wonders of Marettimo, our B&B will welcome you with all the warmth and hospitali ...
Hotel Relais Antiche Saline


Via Verdi, 43 - 91027 Nubia Trapani


The baglio (farmhouse) of Marquise Platamone can be found in Trapani and Paceco Salt Pan Nature Rese ...
Apartment I Tre Golfi


Via Duca degli Abruzzi 57 - 91010 San Vito Lo Capo


I Tre Golfi offers self-catering apartments equipped with veranda or terrace, located around the his ...
B&B Le Vele


Via San Michele, 26 - 91100 Trapani


"Le Vele" bed and breakfast is located inside an ancient noble building between the S. Pietro and ...
B&B Bellatrapani.com


Via Quiete, 22 - 91100 Trapani


THIS IS MY HOUSE, IS´T A HOTEL :-) General Offer: REWARD YOURSELVES! - AGAINST THE ECONOMIC CRISIS ...
B&B Villa Pollina


Via Pietro Randazzo, 57 - 91012 Buseto Palizzolo


Villa Pollina is a 3 star Bed & Breakfast, a place to spend a holiday away from the chaos of daily l ...
Hotel Helios


Via Savoia, 299, 91010 San Vito Lo Capo


The Helios Hotel is a modern and elegant three stars category hotel of brand new opening that is loc ...
B&B Villa Faro


Via S. Stefano del Sole 1 -91010 San Vito Lo Capo


A San Vito Lo Capo, a pochi metri dal mare, con un´incantevole vista sul porto turistico, difronte i ...
Apartment Casa del Sole


Via Vespri, 120 - 91100 Trapani


Welcome to Trapani! Our apartment will be your base for an unforgettable, relaxing holiday. The two ...