Trapani province itineraries

To find out what to do in the province of Trapani we have selected 4 itineraries for you, createded for hotel-trapani.com by a well-known tour operators in the city.

The itineraries are complete in every detail and include a printable .Doc document that you can bring with you on holiday.
The routes are divided by interest, but they can also become the starting point for the tourist who can then create his or her own customized itinerary.
Each tour includes a mini map of the province of Trapani in order to see the exact location of the places to visit.

If you're looking for maps, timetables, kilometric charts and other resources, you can visit our Resources and Maps page.

Archaeological Itinerary
(Trapani, Erice, Mothia, Segesta, Selinunte)

Last: 6 days

Nature Lovers Itinerary
(Trapani, Isole Egadi, San Vito Lo Capo)

Last: 5 days

Short Beach Itinerary
(Trapani, San Vito Lo Capo, Favignana)

Last: 6 days

Long Beach Itinerary
(Trapani, San Vito Lo Capo, Scopello, Erice, Isole Egadi, Marsala )

Last: 8 days

MAP OF TRAPANI PROVINCE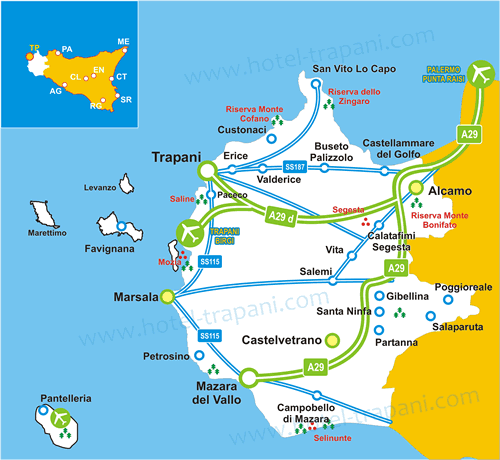 BEST HOTELS AND B&BS

Hotel Divino


Via Marsala, 271 - 91100 Rilievo (TP)


The province of Trapani is one of the areas of Europe with the largest production of grapes, and the ...
Apartment Trapani Mare 2


Via Riccardo Passaneto 43 - 91100 Trapani


Appartamenti Trapani Mare 2 è un graziosissimo bilocale a pochi metri dalle spiagge sabbiose e dai l ...
Hotel Relais Antiche Saline


Via Verdi, 43 - 91027 Nubia Trapani


The baglio (farmhouse) of Marquise Platamone can be found in Trapani and Paceco Salt Pan Nature Rese ...
B&B Ai Lumi


Corso Vittorio Emanuele, 71 - 91100 Trapani


The Bed & Breakfast is located in the historical heart in a palace. Ideally located just a few kilo ...
B&B Le Vele


Via San Michele, 26 - 91100 Trapani


"Le Vele" bed and breakfast is located inside an ancient noble building between the S. Pietro and ...
Hotel Helios


Via Savoia, 299, 91010 San Vito Lo Capo


The Helios Hotel is a modern and elegant three stars category hotel of brand new opening that is loc ...
Apartment Casa Lombardo


Via Colonnello Romey, 18 - 91100 Trapani


Large living room with kitchenette, table, sofa bed and TV, bedroom, at the entrance there is a very ...
Apartment Trapani Mare


Via G.B Fardella 154 - 91100 Trapani


Staying in an apartment in the center of Trapani means having all major services within walking dist ...
B&B Margherita


Strada Locogrande, 107, 91020 Locogrande Trapani


THE NEAREST FROM THE AIRPORT The B&B is located in Locogrande, just outside the city of Trap ...
B&B Trigrana


Viale Cristoforo Colombo 543 – 91010 Castelluzzo


Trigrana offers its guests 2 accommodation facilities: B & B Trigrana and Hotel Trigrana . The locat ...
Apartment Zahra Alloggi Vacanza


via Livio Bassi, 63 - 91100 Trapani


Zahra, "flower" in Arabic, is a group of 4 apartments (2 to 6 beds - 16 beds in total) made up of tw ...
B&B La casa di Paola


Via Messina, 11 - 91100 Trapani


"La casa di Paola" B & B is on the first floor of a traditional building from Trapani dating back to ...