---
MACARI AND CASTELUZZO
---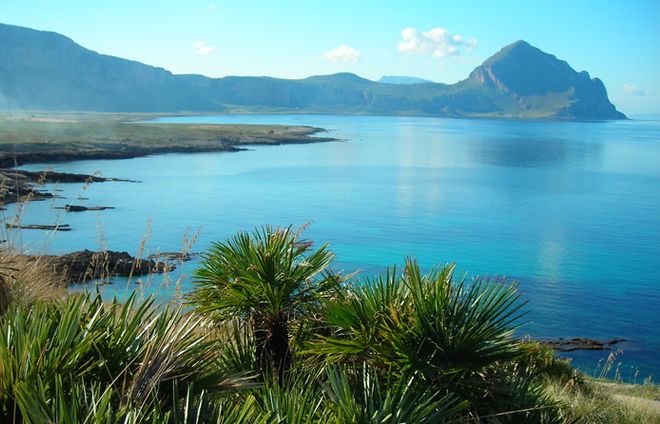 The vicinity of Macari and Castelluzzo to SanVito Lo Capo, their crystalline sea and their nature, as yet unspoilt by mass tourism make them two fully-fledged tourist destinations.
Macari and Castelluzzo are located just a few kilometres away from San Vito Lo Capo and this, together with the fact that their accommodation prices are lower than in San Vito Lo Capo means that the accommodation facilities work well during the summer months.
The village of Castelluzzo unfolds along the sides of long road leading to San Vito Lo Capo in the middle of which there is the church square.
The important elements of Castelluzzo are its olive groves, which extend between the age-old Ponte del Biro (bridge) and the spectacular nature reserve of Mount Cofano. Every year these olive trees provide a fine, intensely scented and flavorsome oil which can be matched to any dish to enhance the nuances of its flavours.
This corner of paradise, far from the crowded areas of the city, is an enchanting place to stay and has paved the way for tourist equestrian activities which are increasingly appreciated by visitors from all parts of the world who can ride on horseback along the paths immersed in nature.
A series of rocky coves with a crystal-clear sea give visitors the chance to swim in the same waters that bathe San Vito lo Capo.
Of equal splendor is Macari, the smallest village of territory that has, in fact, only 216 inhabitants. Different from, but no less impressive than Castelluzzo, it is situated under a cliff and is witness to an earthly paradise: the imposing Mount Cofano that stands out from the cliffs over the closed bay of Cala Mancina. It is just a 4 minute drive from San Vito, but well worth a visit to explore every inch of its lush beauty.
The sea of Macari is just as beautiful, clear and evocative as the sea of San Vito lo Capo, with the difference that it has not yet been overwhelmed by mass tourism.
Macari and Castelluzzo are obviously not free of hotels and restaurants. Restaurants, B&Bs, small hotels, inns and cozy bars provide tourists with all the necessary facilities for a pleasant holiday in these two locations between San Vito Lo Capo and the hinterland of Trapani which is also rich in tourist attractions.
In this area there is also Baia Santa Margherita, a little gem nestled between Castelluzzo and Macari and bathed by an emerald sea that embellishes it like a jewel.
---