---
ERICE
---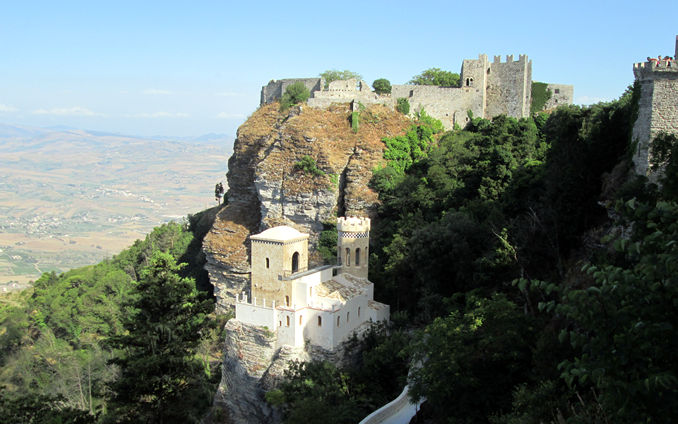 Until 1934 the city was called Monte S.Giuliano and also included the towns of Valderice,
San Vito Lo Capo
and
Buseto Palizzolo
.
Today it has about 30000 inhabitants and is a place rich in history for its monuments and churches, most of which are now de-consecrated.
As for the origins of the town, Thucydides tells us that it was founded by Trojan exiles who, fleeing from Troy, found a place in the Mediterranean Sea where they could settle. It was from these exiles that the Elymian people originated.
In ancient times, Erice together with Segesta would have been the most important Elymian cities. Over the centuries Erice witnessed both Arabic and Spanish dominations.
Erice, which is a very picturesque medieval town with its cobbled and narrow streets and its rich artistic and architectural heritage, has been the capital of science since 1963, with the Ettore Majorana Centre, an institute founded by the scientist Antonio Zichichi from Trapani.
In this institute of scientific culture, scientists from around the world are brought together to discuss major issues affecting the contemporary world. For this reason Erice is nicknamed "The city of Science".
As for tourist events, Erice offers a full calendar of meetings throughout the year, such as the Misteri Procession on Good Friday, which emulates that of Trapani, but is smaller, consisting of a few groups, and the "Vare" (platforms on which the statues are placed) are not brought to the shoulder with the characteristic "annacata" (rocking movement), but rest on perches, which are more easily adapted to the steep cobbled streets of the city centre. However, the procession is very impressive and has shown its charm for over four centuries.
Also, since 1957, the Time Trial of modern and historic cars has been held in Erice. The cars, starting from Valderice, reach the top of the mountain in a fascinating automobile race, held annually in the spring.
Erice does not only comprise the summit of the mountain, but also the valley beneath with the area of Casa Santa, which in urban terms, is often confused with Trapani. In fact, discussions about the readjustment of boundaries have been going on for years. Erice also includes the sea with S. Cusumano and Erice.
To reach the summit, in addition to the classic solution of the bus or car, a cable car service has been running since 2003, which allows the arrival at the summit in just 15 minutes.
---