Resources and Maps
Travelling around the province of Trapani is not complicated, the connections are good and affordable for everyone.
In this sense it is obviously useful to have some travel information in order to be able to move around easily and make the most of the various means of public transport. It is clearly important to have a general idea of the province and the location of the various places to visit.
In this regard, through the links below, you can download maps and guides for better orientation.
It is also useful know the timetables of the various means of public transport: buses, hydrofoils to the Egadi islands, the cable car etc.
Finally, if you decide to rent a car, it does not hurt to have kilometric charts at your disposal so as to be able to to judge distances well. The links below provide valuable information and resources to help you plan your trip thus avoiding any surprises.
MAP OF TRAPANI PROVINCE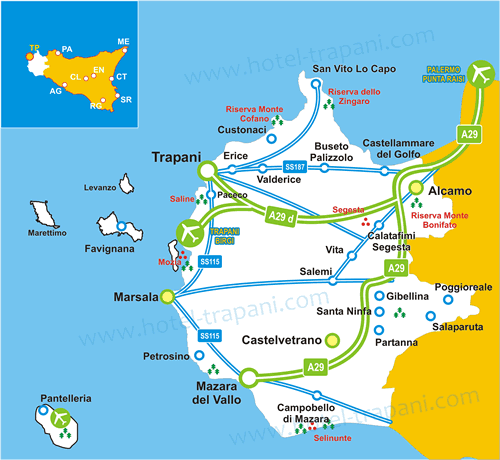 BEST HOTELS AND B&BS

B&B Barone Sieri Pepoli


Via Barone Sieri Pepoli, 30, 91100 Trapani TP


In the center of the old Trapani , the St. Nicholas neighborhood that gave birth to the city, a ston ...
Hotel Divino


Via Marsala, 271 - 91100 Rilievo (TP)


The province of Trapani is one of the areas of Europe with the largest production of grapes, and the ...
Holiday Home da Paolo


Via Immacolata, 89 - San Vito Lo Capo


San Vito Lo Capo and Macari are two renowned seaside resorts, especially for the beautiful coastline ...
Hotel Cala di Ponente


Viale C. Colombo, 543 - 91100 San Vito lo Capo


For those who love the sea, the sunsets and breathtaking views that only Sicily can give, Cala di Po ...
Hotel Baia di Venere


via Nunzio Maniaci, 5 - 91010 San Vito Lo Capo


As immersed in the crystalline sea of ​​San Vito Lo Capo, between the green of the Medit ...
Apartment Trapani Mare 2


Via Riccardo Passaneto 43 - 91100 Trapani


Appartamenti Trapani Mare 2 č un graziosissimo bilocale a pochi metri dalle spiagge sabbiose e dai l ...
Apartment Trapani Mare


Via G.B Fardella 154 - 91100 Trapani


Staying in an apartment in the center of Trapani means having all major services within walking dist ...
B&B Villa Pollina


Via Pietro Randazzo, 57 - 91012 Buseto Palizzolo


Villa Pollina is a 3 star Bed & Breakfast, a place to spend a holiday away from the chaos of daily l ...
B&B CasaTrapani


Via Livio Bassi, 196 - 91100 Trapani


In a small palace-looking building that was built at the end of 1900, but completely refurbished, Ca ...
B&B Villa Faro


Via S. Stefano del Sole 1 -91010 San Vito Lo Capo


A San Vito Lo Capo, a pochi metri dal mare, con un´incantevole vista sul porto turistico, difronte i ...
B&B Bellatrapani.com


Via Quiete, 22 - 91100 Trapani


THIS IS MY HOUSE, IS´T A HOTEL :-) General Offer: REWARD YOURSELVES! - AGAINST THE ECONOMIC CRISIS ...
Agritourism Vultaggio


Strada Nuova Guarrato, 91100 Trapani Guarrato


Near the Airport. The Vultaggio family´s country "baglio" (typical farmhouse hamlet) is situa ...