---
LIGHTHOUSE OF SAN VITO LO CAPO
---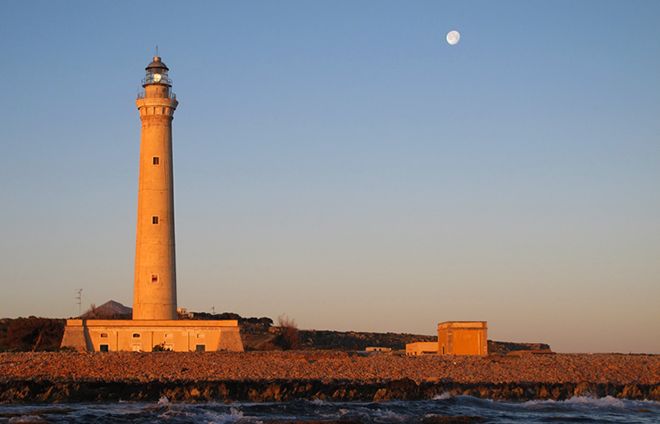 Among the symbols representing San Vito, we can find the Lighthouse, located on the tip of the city, visible in the sea area between Punta Carini and the harbour of Trapani.
It is about 40 metres high, it is cylindrical in shape with a circular base, and it stands on a polygonal block covered by a terrace. Its walls are white and is supplied with a sufficient amount of water.
It has three powerful beams visible from 20 nautical miles away, making it one of the most important and famous lighthouses in Sicily.
Built in 1854 during the reign of the Bourbons, its first light was lit in 1859. In past centuries it saw countless boats from different populations sailing in the surrounding waters, and it protected boats and passengers from shipwrecks and scuffles thanks to its saving light.
Seen from a sailor's point of view, nighttime in San Vito would not be the same without the Lighthouse; its beams of light offer fascinating and poetic land and seascapes and it guides and supervises the sailors and their boats, as would a night watchman, making their nocturnal excursions safer.
A walk near the lighthouse can awaken strong emotions and offers beautiful sensations arising from diverse points of view: from the mountainous landscape, onto which the lighthouse embroiders points of light, to the bright white reflections on the sea.
---