---
SALT PANS AND SALT MUSEUM
---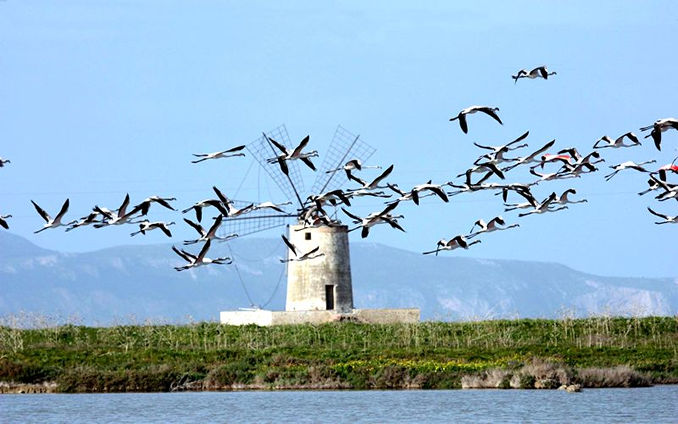 Two distinguishing features characterise Trapani: the Misteri Procession on Good Friday, and the salt and the salt pans.
Today the extraction of salt from the salt pans of Trapani is no longer the main economic activity of the city, but its basins - the salt pans themselves - not only constitute an important source of revenue for the salt companies, but also are also important for tourism, because salt pans are the most fascinating monument that a territory could ever have.
Since 1995, the salt pans of Trapani have been part of a Nature Reserve, managed by the WWF, and covering nearly one thousand acres.
The salt pans are the refuge for thousands of birds during the migration season, but the area is of particular interest not only for the fauna but also for the flora, in fact, among the characteristic species of the salt pans are the Calendula (Pot Marigold) and the Maltese mushroom, a parasitic plant, which is, in fact, not a mushroom at all.
The Salt pans of Trapani and Paceco - this is the full name of the established Nature Reserve - constitutes a major tourist attraction with thousands of visitors every year walking along the dirt roads and muddy trails at particular times of year. In fact, guided tours are organised, which must be booked at least one week in advance and groups of hikers should not exceed fifty at one time.
Worth visiting within the salt reserve, are the historical salt museum and the salt marshes of Nubia, which is a private structure, run by the Culcasi family.
Opening Times and pricing Salt Museum
From Monday to Sunday: 9.30 - 19.00
Entry fee:
€ 2,00 Adults
Children free
Tel. +39 0923 867061
---