---
MISTERI PROCESSION
---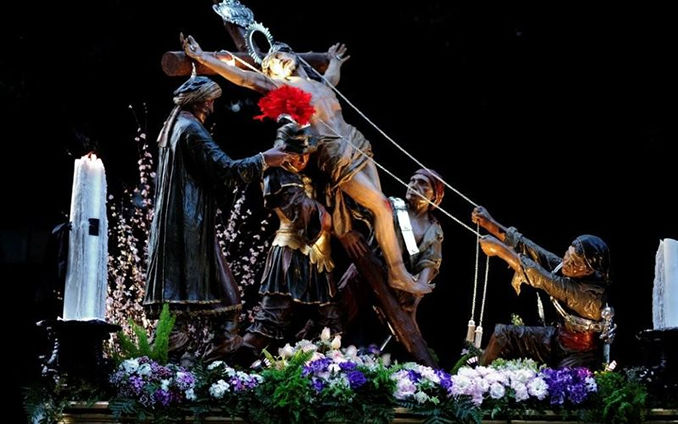 Among the rites of Holy Week taking place in Catholic countries, the procession of the Mysteries of Trapani is one of the most fascinating, because it arouses a deep devotion in the faithful and it can also be greatly admired for its noteworthy artistic value and folklore.
The custom of representing groups of statues with the Passion of Christ probably originated in Spain with the so-called "Las Casazas", which was the name we also gave the first manifestations of the genre in the sixteenth and seventeenth centuries.
The end of the Spanish rule in Italy did away with the exotic name and the sacred groups became called "Misteri", recalling the term "religious mystery".
The Misteri of Trapani were built from craft shops that sprang up and flourished in Trapani in the sixteenth-eighteenth century and were a veritable breeding ground for talented artists, who were the creators of valuable sacred statues. In addition, the guilds then adorned the complex statues of the Misteri with silver finishings which are true masterpieces of engraving.
In ancient times, the sculptural groups of the Misteri were kept in the church of S. Michele in Trapani, but it was completely destroyed during an air raid during World War II and some of the statuary groups suffered extensive damage and other Misteri statues were completely destroyed. At the end of the war, the guilds together with the cooperation of local government provided for the restoration or remaking of the statues of the Misteri that had been damaged or destroyed in their original form.
Today the Misteri of Trapani are kept in the Church of the "Anime Sante del Purgatorio", after a brief period in the church of S. Domenico, when the current site underwent restoration work.
The procession of the Misteri is composed of 20 sacred groups, which are preceded by bands, singing funeral marches and starts at 2pm on Good Friday, ending twenty-four hours later. The groups follow each order and are carried on the shoulders of uniformed men.
The groups that make up the Procession of the Misteri are: "Separation", "The washing of the feet", "Jesus in Gethsemane", "The arrest", "The Fall into the Cedron," "Jesus before Anna" , "Denial", "Jesus before Herod", "The Flagellation", "The Crowning with Thorns", "Ecce Homo", "The Judgment", "The ascent to Calvary", "The Disrobing", "The raising of the Cross"," The wound to the chest", "The Deposition" and "Transport to the tomb. "
Closing the procession of the Misteri of Trapani is an urn containing the body of Christ just taken down from the cross and the statue of Our Lady of Sorrows, wrapped in a long cloak of black velvet.

---