---
TUNA PROCESSING MUSEUM
---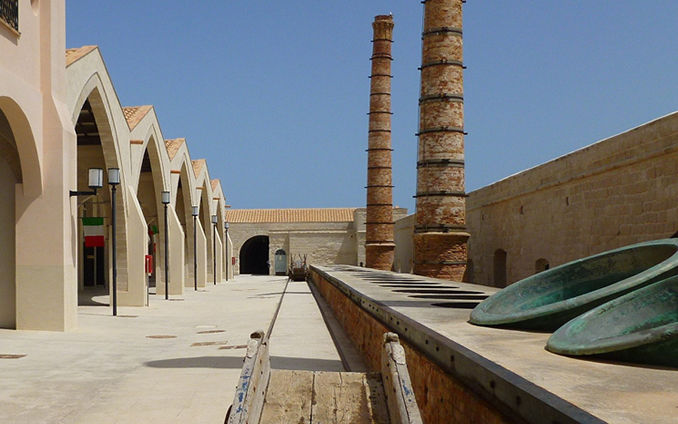 The tuna fishery in Favignana, officially named "Ex Stabilimento Florio delle tonnare di Favignana e Formica" (the Ex Florio plant of the fisheries of Favignana and Formica), is an ancient fishery, with an adjoining plant for the conservation of the fish, which with its 32 thousand square metres, is one of the largest in the Mediterranean.
The property originally belonged to the Pallavicini family of Genoa. Florio rented it in 1841 for the "mattanza" (tuna slaughter). Subsequently acquiring the fishing rights, in 1874 , Ignazio Florio called upon the architect Giuseppe Damiani Almeyda, who designed thePoliteama in Palermo, to expand and renovate the fishery, so that it could be used for the preservation and canning of tuna in oil. One room was entirely devoted to the creation and industrial processing of tin cans, with an innovative key opening. The plant, gaining strength from the increase in the fishing and marketing of bluefin tuna in domestic and foreign markets, was successful both in terms of image and profit. The plant, having gone bankrupt in the in the early decades of the 1900s, in the early thirties passed into the hands of companies owned by the IRI, and in 1938 into the hands of the entrepreneurs Parodi from Genoa, who are still brand managers for the Florio Fishery today. In 1985 the management of the plant was entrusted to the entrepreneur Nino Trapani Castiglione - formerly the manager of the San Cusumano fishery - owners of a cannery which isstill thriving today. In 1991 the plant was acquired by the Sicilian Region.
The recovery work that the structure, a splendid example of industrial archaeology,needed, was completed in 2010, dividing the internal spaceinto a themed museum space which can still be visited: a museum area - with archaeological finds from the sea around the archipelago as well as illustrating the history of the former tuna fishery and of the characteristic mattanza - and the multimedia rooms where the oral memories of older workers of the plant, are offered and archive videos are projected about the famous and ancient mattanza. The tourist can also find other spaces for exhibitions, and ethno-cultural events that are constantly being created.
There is so much to listen to, to see, and also to admire and experience.
The extended building, in fact, was not only the place where equipment, anchors and boats of the mattanza were kept, but it also represents the history of the Florio family which intertwined with the lives of the islanders, who found honest work and relief from social poverty.
---