---
LA MATTANZA
---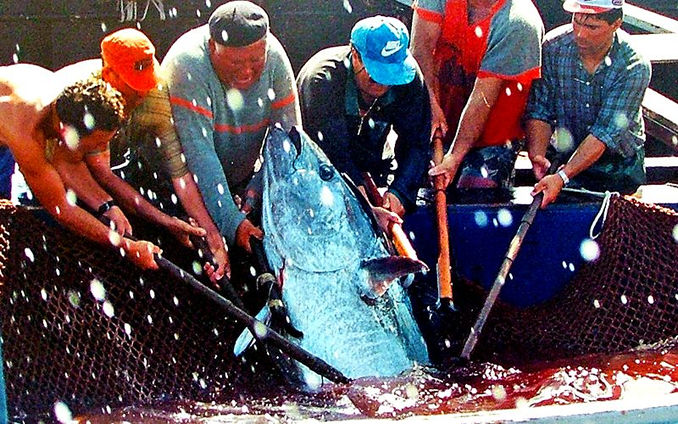 In ancient times, tuna fishing (the Mattanza) represented the main source of income for Favignana and fishermen from the Egadi, Islands essentially because the island, before being a tourist centre, was and still is a fishing village, living exclusively from fishing, especially tuna fishing.
The Mattanza is an ancient custom, which can be traced back even to prehistoric times.
Tuna fishing is identified with the term "Mattanza", which derives from the Latin "mactare" meaning, in fact, "kill".
The Mattanza is a very cruel type of fishing, because the tuna specimens of over 100 kg. are caught, even pulled on board by means of iron hooks, leaving the sea covered with blood. In past years the massacre was the subject of heated criticism because it is considered cruel by animal rights activists, however, without going into details, the massacre has now almost disappeared due to the decrease of tuna, which in the past were caught in an industrial way with the shoals of fish being intercepted long before the tuna came close to the coast.
The most recent Mattanza in Sicily dates back to 2007 in Favignana, although in recent years it had been transformed from a predominantly commercial activity to folkloristic event.
In fact, tourists were taken on board the morning and brought into the area where the Mattanza took place leaving them with strong and vivid memories: as old as this land.
When the tuna was caught, it was brought into the "Tonnara" - a tuna processing plant. This building, after 30 years of disrepair, was purchased for more than 10 million Euros by the Region of Sicily to be renovated and turned into a large exhibition and cultural centre where volunteers guide tourists through the historical memory and cultural tradition of the Mattanza.

---