---
THE CATHEDRAL
---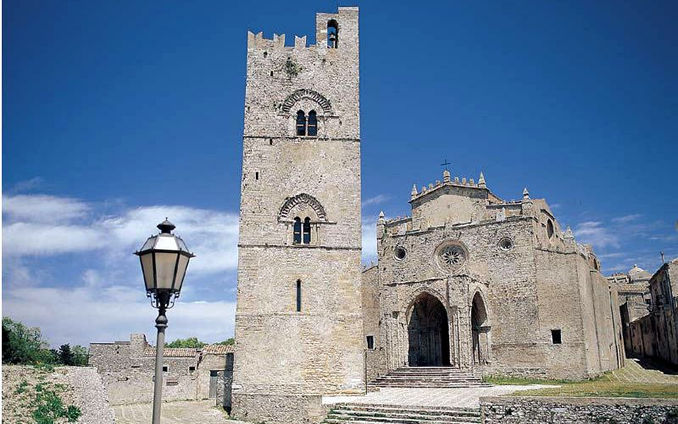 In Piazza Matrice, near the Porta Trapani is the Mother Church of Erice, dedicated to Our Lady Assumed into Heaven, which enriches Erice's notable heritage of churches, many of which are desecrated.
The Mother Church was built in the fourteenth century by King Frederick of Aragon for defensive purposes, because from the bell tower it was possible to monitor the surrounding area and the plains at the foot of Mount Erice.
The original forms were in fourteenth century Gothic style with decorative mosaics and frescoes.
In 1856 the Mother Church was restored or rather rebuilt, so the mosaics and frescoes disappeared, while the two rows of columns, the three naves and four side chapels of the original church remained.
As soon as you enter the Mother Church, on the right there is a chapel in which lies the statue of Our Lady of the Assumption, to whom the church is dedicated. Other important works include the extremely valuable, sixteenth century font and, at the centre of the apse of the Mother Church, a Madonna and Child. The niches and bas-reliefs depict various scenes from the life of Christ.
The city venerates Mary as patron saint, and guardian of the surrounding countryside of Erice, honoured with the title of Our Lady of Custonaci, who is celebrated on the last Wednesday of August. A nineteenth century reproduction of the Madonna is kept in the Mother Church, while the original is kept and venerated in the sanctuary of Custonaci.
---