---
THE CASTLE OF VENUS
---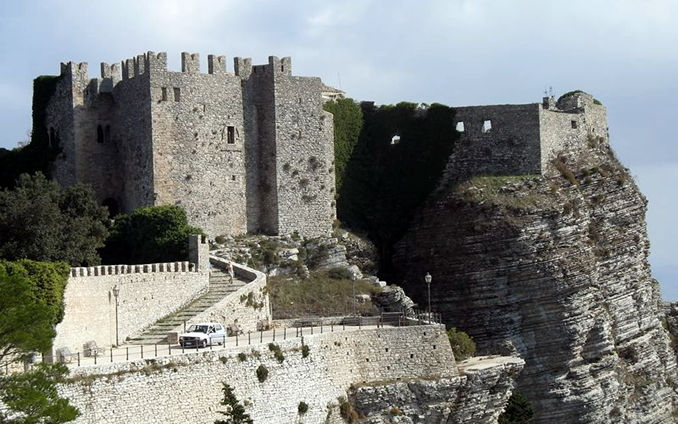 One of the most characteristic of Erice is the Castle of Venus, which overlooks the majestic city of Trapani with its salt marshes and the Egadi archipelago.
Historical records tell us that before the Castle of Venus was built, on the same site there was a sanctuary open to the sky over which a temple dedicated to the worship of Venus Erycina was built.
Hence the name Castle of Venus.
The temple of Erice was of modest size and here, the hierodule lived. These were priestesses who practiced the art, so to speak, of prostitution, pleasantly entertaining the pilgrims who came to Erice from all parts of the Mediterranean to pay tribute to the goddess.
The area surrounding the temple was not easily accessible.
The Castle of Venus itself was built during the Norman period (twelfth century) on the ruins of this temple and the building was conceived as an impregnable fortress with massive walls.
In the Castle of Venus three establishment figures resided - the Bajulo, who had the function of collecting taxes, the Lord of the Manor and a Captain of the Royal Italian army. These figures represented the presence of royal authority in the territory. Like most of the castles, the Castle of Venus, was used as the prison of Erice under the direction of the Castellan.
Under Spanish rule, the post of Castellan was highly coveted because it gave honour to the person concerned. Indeed it was a post which could be purchased with large sums of money. It is said that in 1628 a noble patrician named Alberto Palma bought the post by paying the sum of 800 onze (bullion coins). The post of Castellan also included responsibility for the Castle of Venus as concerned its maintenance.
In 1818 under the Bourbon rule, the Castle of Venus passed to the City of Erice, which in 1872 gave it in concession to Conte Agostino Sieri Pepoli, who arranged to restore the towers and build the Balio garden.
---