---
WINE FOUNTAIN
---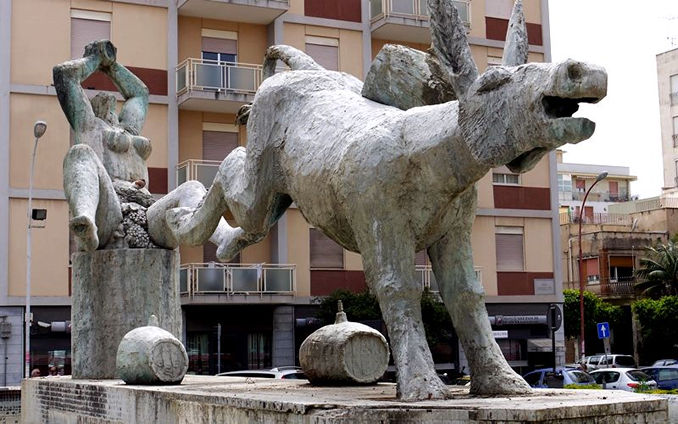 In the city of Marsala, considered to be the wine capital, a fountain was built in 1978 which includes a sculptural monument representing a Bacchante and a kicking ass, carrying a barrel of wine on its back.
The work was created by the sculptor Salvatore Fiume to symbolize the generosity of a land whose principal vocation is the wine; in fact the wine fountain launches two main messages.
The first of these is represented by the Bacchante, or the wine, on whose production and marketing the whole economy of the area is based, with its many wineries employing thousands of people.
The second allegory of the wine fountain is the donkey that is, so to speak, the "workhorse", which formerly served the farmers in the countryside to work.
The wine fountain, which is located in Piazza Francesco Pizzo and whose statues were made entirely from bronze, is considered to be the symbol of the economy of Marsala, in which all entrepreneurs in the industry, the workers of the cellars and wine enthusiasts, recognize themselves.
When Marco De Bartoli, a leading entrepreneur who founded a major winery and was the first who fought to raise the quality of Marsala wine in the world died in 2011, there was a proposal to name the fountain after this wine entrepreneur.
However, this proposal has not yet been accepted by the municipality.
In 2011 the wine fountain was restored. The work concentrated on the water system, introducing a new unit for the recycling of the water, the lighting, with the installation of a scenic/artistic lighting system and interventions aimed at restoring the masonry and sculpture.
---