---
VISIT TO THE CAVES
---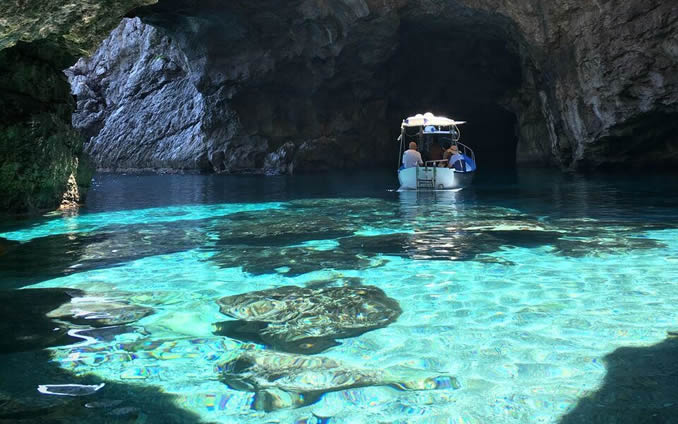 he island of Marettimo can be considered as a wildland due to its unspoilt nature and its geomorphologic characteristics which include many caves, which were once used by the inhabitants of Marettimo as a place of refuge from pirates and marauders, who proliferated during the period of Spanish rule.
Marettimo has about 400 caves both above water and submerged, but the most famous, that can be visited during one of the many excursions that take place on the island is certainly the Grotta del Cammello - Cave of the Camel, which is located near the cliff of the same name, so called, because it is in the shape of a camel. It can be reached by going in northerly direction from the harbour. Within the cave there is a small pebble beach.
Another cave to visit is the Grotta del Presepe - Cave of the Nativity, so named because the fervid imagination of the people saw the shapes of nativity figures in the stalactites and stalagmites.
Continuing on our tour, one of the places that should certainly not be missed is the grotta del Toro - Cave of the bull, which owes its name to the rock, which is located at its entrance.
We find a deep blue sea and beautiful backdrops in the characteristic Grotta del Tuono - Cave of Thunder, so called because when the waves are breaking onto the walls of the cave, they seem to reproduce the sound of thunder during a storm. However, even more characteristic is the Grotta della Bombarda - Cave of the Bombard, which owes its name to the characteristic whistle that occurs during storms in a small crevice.
To conclude our overview of the caves of Marettimo, we must mention the Grotto Perciata, which in local dialect means "pierced." In fact, on visiting the cave, which you can also do by swimming, and you will notice that the wall has a hole in it as if it had been punctured.
---