---
THE ACROPOLIS
---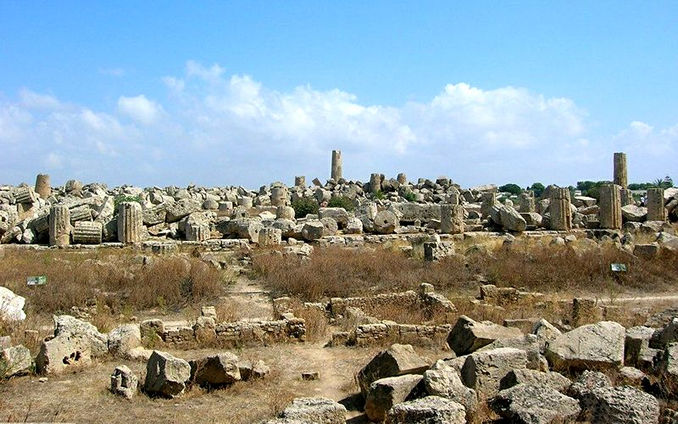 The Acropolis, being the highest part of the city of Selinunte, stands on a plateau, sloping towards the sea.
In the acropolis of Selinunte there are some temples and a number of secondary buildings, while the other temples are located on a hill nearby.
Over time, numerous studies and digs have been carried out to obtain the most information possible about the acropolis of Selinunte and from the survey two different time periods with different architecture can be inferred: the Greek period, which is the earliest one, going from the seventh to the fifth century BC, and the later Punic period, going from the fourth to the third century BC
In 409 BC the Carthaginians destroyed Selinunte, initiating an architectural change to the city, which altered the appearance of the Acropolis. At the entrance of the acropolis of Selinunte there is the so-called Polluce Tower, which was built in the sixteenth century as a watchtower to guard against the continuous raids of the pirates who infested the Mediterranean at that time.
The northern part of the acropolis of Selinunte was the urban area with a very precise road system; the southern part was the most sacred and religious with altars and sacred precincts previous to the temple.
This vast sacred area of the acropolis of Selinunte was called the city of the gods.
In the early years of the acropolis of Selinunte, several small shrines were built, which were later replaced by larger and more durable temples. On the hill of the Acropolis, the remains of Doric temples, including Temple O and Temple A, which were built between 490 and 460 BC were discovered.
Temple B, which is not Doric but Hellenistic, is very small and is unfortunately in very bad condition. It was built around 250 BC, shortly before Selinunte was destroyed by the Carthaginians and is the only religious building bearing witness to the rebirth of the city.
Temple C is the oldest and dates back to 550 BC. In around 1925-1927 several columns, which had collapsed after an earthquake that struck the area in the Middle Ages, were raised and reassembled.
The Temple itself was probably conceived as an archive, because many seals have been found.
The D Temple, dedicated to the goddess Athena, is a short distance away and was built in around 540 BC.
Opening Times and pricing archaeological park
All days: 9.00 - 19.00
Entry fee:
€ 6,00 Adults
€ 3,00 Reduced
Tel. +39 0924 46540
---