---
SEGESTA THEATRE
---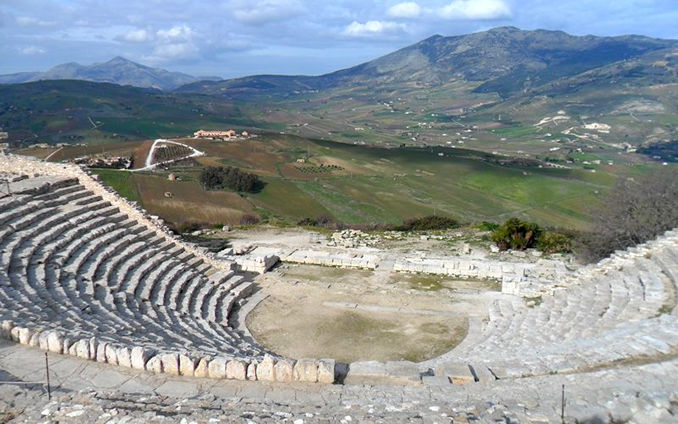 The theatre is located in the archaeological site of Segesta-Calatafimi and is an ancient Greek theatre of the city of Segesta, although the city was not really Greek.
The theatre of Segesta is attributable to the fourth century BC (some sources place it at the second century BC) and is located at the top of Mount Barbaro in the direction opposite to the temple.
The theatre of Segesta can contain up to a maximum of 4000 spectators and every year in summer, different performances take place, with both famous and novice actors, and including modern and classical plays, dance performances, ancient dramas, operettas and musicals.
As regards architectural characteristics of the theatre, it must be said that although it is a Greek theatre, its style differs from the usual structure of Greek theatres, because the tiers of seats do not rest directly on the rock, but were specially built with two entrances.
The theatre of Segesta is equipped with underground corridors where actors passed between one scene and another. As far as the stage is concerned, unfortunately time has eroded away its structural elements leaving only a few rows of blocks as a testament to it.
Anyone wishing to visit the theatre inside the archaeological site of Segesta can reach the area on foot, but there is also a bus, which stops right at the top where the entrance to the theatre is situated.
According to a survey published in 2009 and sponsored by the province of Trapani, the theatre of Segesta unfortunately not accessible to wheelchair users.
Opening Times and pricing
Winter (October – April): 9.00 - 17.00.
Summer (May – September): 9.00 - 19.00
Entry fee:
€ 9,00 Adults
€ 4,50 Young (18 - 25 years old)
Free: Children and over 65
Tel. +39 0924 955841
---