---
SATYR MUSEUM
---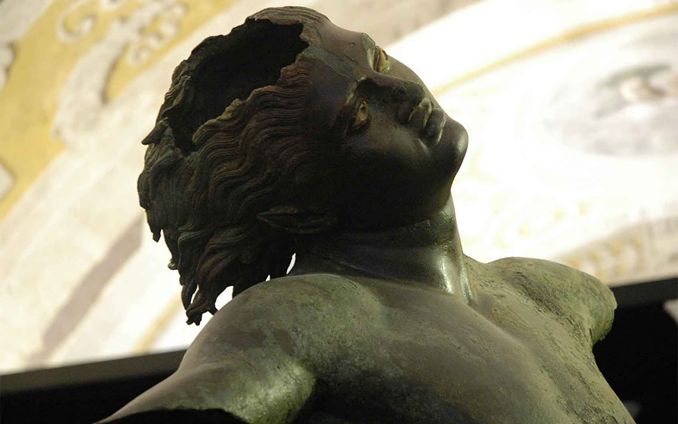 The fishing fleet of Mazara del Vallo is famous all over the world and fishes in vast areas of fishing in the Mediterranean. Thanks to this activity, in 1998, the beautiful statue of " Dancing Satyr " was found.
In fact, during a fishing trip, the boat "Capitan Ciccio" brought to the surface a leg made of bronze , which had been accidentally caught along with the fish in the meshes of a net. Subsequently the rest of the bust resurfaced, devoid of the other three limbs, depicted engaged in an engaging dance, with the body twisted to the right and with the head facing up. Note the eyes, remarkably preserved in limestone alabaster originally built with colored glass paste .
The dating of the bronze figure which stands 2.5 metres high and weighs 96 kg, is uncertain: it probably dates from between the fourth and second centuries BC. Subsequently, the bronze figure was acquired by the Sicilian Region and entrusted to the Civic Museum of the city. In September 1998 , the Central Institute for Restoration in Rome was entrusted with the two fragments of the statue, to allow for the restoration of the figure.
On 31 March 2003, the dancing satyr was exhibited in Rome, at the headquarters of the Chamber of Deputies.
On July 12 2003, the bust was officially entrusted to the authorities of the city of Mazara del Vallo, to be exhibited to the public at the new "Museum of the Dancing Satyr" , specially housed in the former church of Sant'Egidio.
In 2005, the Satyr was transported to Japan to be exhibited at the Tokyo National Museum, and consequently at the Expo 2005 Aichi.
In early 2007, as part of an exhibition dedicated to the works of the Greek sculptor Praxiteles- for some scholars considered to be the author of the work - the statue was put on display at the Louvre in Paris.
Opening time Museum of the Dancing Satyr:
Church of Sant'Egidio - Piazza Plebiscito
91026 Mazara del Vallo (TP)
Phone 0923 933917
Open every day
Opening hours 9:00 to 18:00
---