---
BULWARK VELASCO IN MARSALA
---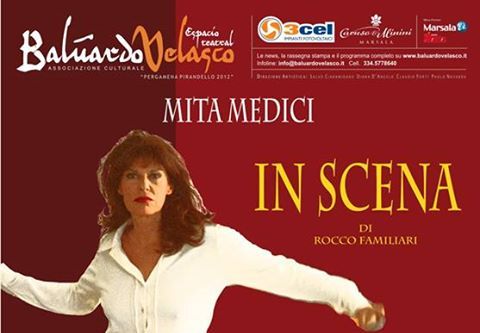 From: 09/11/2013 - To: 10/11/2013
Place: marsala

---

---
Also this year will raise the curtain on a new and surprising , as well as waiting , artistic season of the Bulwark Velasco . In Marsala , from November 9 to 30 May 2013, will be able to watch many shows organized by the now affermatissima class cultural association . The shows will be held in the now restored Teatro Comunale ´ E.Sollima ´ , considered a jewel Marsala , ready to face an entire season by hosting artistic personalities and renowned as Ascanio Celestini (also known for his participation in ´ Talk to Me ´ by Serena Dandini ), Claudio Lolli , Mita Medici , Claudia Coli and many others.
The season kicks off tomorrow, November 9, 2013 , with the first show ´ On stage ´ Rocco´s Family , (directed by Manuel Giliberti and will see in the lead role Mita Medici) , which will then be repeated on Sunday November 10.
The story tells of a woman who represented expresses her profession as an actress living , including confessions , reflections and monologues , thanks to which will be discovered many facets of the character, who Mita Medici will play with intensity and thickness .

Every day from 17 to 20 you can book tickets for the shows at the theater box office (via Frisella in Marsala ) or procure the subscription to the entire theatrical season or just to receive more information about the event and its programming .


PLACE OF THE EVENT
---
Baluardo Velasco a Marsala
---
COMMENT "BULWARK VELASCO IN MARSALA"
---
IN ADDITION TO "BULWARK VELASCO IN MARSALA" MAYBE YOU MAY ALSO BE INTERESTED IN THESE ARTICLES?