---
THE TASTE OF JAZZ IN TRAPANI
---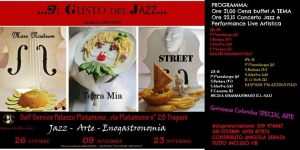 From: 26/10/2013 - To: 26/10/2013
Place: trapani

---

---
Once again, an event presents art, music and good food together to enhance our senses in evenings of pure pleasure : The Taste of Jazz, in Trapani , October 26 with the first of his three dates .

Get ready to evenings sparkling , full of emotion in music as in art, seasoned with healthy flavors of Sicilian cuisine . Furthermore, when the best of jazz meets the remarkable art of Joan Dove ( Institute of art Leonardo Da Vinci) , it is impossible not to be charmed .
The appointment of the October 26 event offers a culturally high seasonal cooking but especially surprising : the typical dishes of Trapani , rigorously carried out by the chefs of the Self Service Palazzo Platamone exclusively for you , ready to satisfy your palate .
And if all this still does not convince you , wait until you read the names of the musicians who will preside at the Taste of Jazz !
It is Fabrizio Pezzino , Silvio Barbara , Gaspare Palazzolo , Orazio Maugeri , Nicola Giammarinaro , Dario Li Ratings , Happy Cavazza , Salvo Alestra and Paul Passalacqua , known musicians of talent that will fill your evenings making them unique, stylish , giving the atmosphere of jazz.

If you do not want to miss this opportunity , please contact the numbers 329 9746167 . 331-2752889 . 0923 872 174 .

And now, Plainī the Change

masterfully

played by Orazio Maugeri 4et.




PLACE OF THE EVENT
---
Il Gusto del Jazz a Trapani
---
COMMENT "THE TASTE OF JAZZ IN TRAPANI"
---
IN ADDITION TO "THE TASTE OF JAZZ IN TRAPANI" MAYBE YOU MAY ALSO BE INTERESTED IN THESE ARTICLES?