---
PROTECTED AREA OF THE EGADI ISLANDS ON THREE RAI
---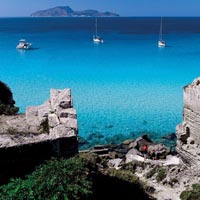 From: 19/10/2013 - To: 19/10/2013

---

---
The episode of Ulysses Saturday, October 19 will prove to be an event not to be missed. Alberto Angela , in fact , will describe and tell the wonders of Sicily. It will be a picturesque drive to the rediscovery of the most valuable treasures in Sicily : from the site of Segesta, the temples of Agrigento, the mosaics of Piazza Armerina , not to mention the Marine Protected Area of the Egadi Islands !

The undisputed star of these days , at least on TV, is in fact the wonderful natural reserve of the Egadi (which aired on Retequattro just yesterday, 17 October) that offers breathtaking performances and nature of rare beauty. Alberto Angela tell , from the point of view of science and nature , explaining the mysteries of the archeological findings in this area in recent times .

We refer to the recently discovered wreck , full of ancient amphorae , the beaks of bronze that in the past ( over 2300 years ago! ) Were used to ram enemy ships and helmets of the soldiers.

Thanks to the friendliness and excellent professionalism , as well as the immense culture, which has always characterized Alberto Angela then we will , once again , to rediscover the beauty found on our own territory. Everything will air tomorrow night Saturday, October 19th at 21:30 on Rai Tre .



PLACE OF THE EVENT
---
Area Protetta delle Isole Egadi su rai tre
---
COMMENT "PROTECTED AREA OF THE EGADI ISLANDS ON THREE RAI"
---
IN ADDITION TO "PROTECTED AREA OF THE EGADI ISLANDS ON THREE RAI" MAYBE YOU MAY ALSO BE INTERESTED IN THESE ARTICLES?