---
NOTES IN THE ARCHIPELAGO OF THE WIND IN FAVIGNANA
---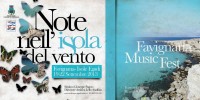 ---

---
Unmissable event on September 20 in Favignana : September 20 to 22 in fact back the good music on the island, thanks to the initiative ( idea Lello Analfino ) ´ notes in the Archipelago of the Wind ´ .

The initiative aims to give the opportunity to live Favignana with its beautiful natural wonders in a season in which it is further away from the tourist bustle brought the summer season : an island quieter then , with a charm altogether different but not for this less overwhelming.

The art direction is by Lello Analfino , creator of the project , which until two days ago everything was officially announced at the Palazzo Riccio di Morana in Trapani , illustrating the details of the musical project to the mayor of the Egadi in the press conference .
The indisputable protagonists of the event will be the singers and songwriters who will perform in the evenings which no doubt will leave its mark on the island : we are talking about Niccolò Fabi , the undisputed poet of Italian music , which has been able to create songs during his career of a sensitivity and refinement unique to say the least , then we will also have Luca Barbarossa, who until a few years ago participated in San Remo in the company of Raquel De Rosario with the song ´ all the way ´ and can boast a respectable career in which he could collaborate with many outstanding personalities of Italian music.
Do not forget, however, the soul of the event : The Tinturia ! The group with which this event has become a viable project , Sicilian folk group that was able to give joy and abandon , a sound lively and never repetitive or mundane , that has given us lasting success over time.
Alongside these will be exceptional songwriters Sergio Caputo , Roy Paci , Supercomboband , and Me´Tresse , talents which , added to those mentioned above , will give pure energy and pure art .

The event will be held in conjunction with ´ Fashion Event ´ , a show in which 12 professional models parade , which will show the public the heads of designers of international fame.

We propose below, the mini-spots of the event:


PLACE OF THE EVENT
---
Note nell´Arcipelago del vento a Favignana
---
COMMENT "NOTES IN THE ARCHIPELAGO OF THE WIND IN FAVIGNANA"
---
IN ADDITION TO "NOTES IN THE ARCHIPELAGO OF THE WIND IN FAVIGNANA" MAYBE YOU MAY ALSO BE INTERESTED IN THESE ARTICLES?