---
FAVIGNANA, NOTES ON THE ISLAND OF THE WIND
---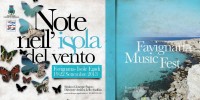 ---

---
At Favignana promises to be an event that could hold many surprises. ´Notes on the island of the wind´ is in fact an exclusive event which will be attended by famous Italian entertainers, including singers, comedians and showman. These include the pluriapprezzati by the Italian public Ficarra and Picone, Irene Grandi, Ron, Mario Venuti, Roy Paci, Irene Fornaciari, Paolo Belli and many others.

Live music and more, then: a show with characters such as those mentioned supra certainly can not be done (and us) miss anything.


As previously announced on the website Hotel Trapani, the idea of the event was born from the lead singer of Tinturia Analfino Lello, who has repeatedly stated that the main aim of the event ´Notes on the island of the wind´ is to join music , entertainment, food and wine to create a mix of feelings that face rediscover and revalue the traditions of its territory, in this case the beautiful Favignana, to appreciate it even in times not just during the summer.

In fact, the event will be held on 20 and 21 September, at the former factory Florio.

But what is the main feature of the event? During the event will also be celebrated ´Frascatola in Fest´ at different moments dedicated to wine, which will offer even recipes dating back half a century ago, tracing the history of ´cooking´ of the island of Favignana.

The initiative, in short, has every reason to collect a great success both for its original content and for the well-known personalities, as well as the fact that it will also be promoted on the foreign tourist market.
PLACE OF THE EVENT
---
Favignana, Note nell´isola del vento
---
COMMENT "FAVIGNANA, NOTES ON THE ISLAND OF THE WIND"
---
IN ADDITION TO "FAVIGNANA, NOTES ON THE ISLAND OF THE WIND" MAYBE YOU MAY ALSO BE INTERESTED IN THESE ARTICLES?