---
CALA ROSSA IN THE TOP 17 AMONG THE MOST BEAUTIFUL BEACHES
---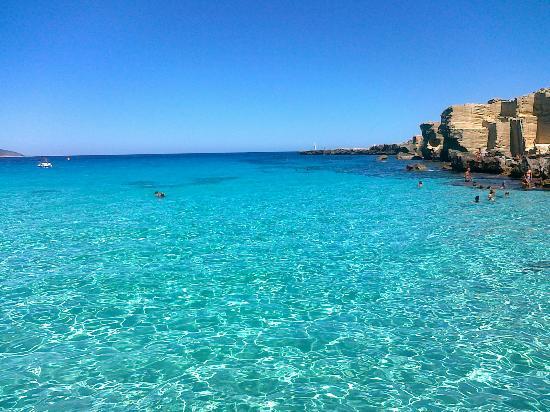 ---

---
Legambiente recently ranked Cala Rossa, known cliff Favignana, one of the seventeen most beautiful beaches of Italy in the competition that has recently launched its official website.

And if we consider the crystal clear sea that bathes, sometimes blue with flashes of teal tones, framed by rocks of various shapes, we have no trouble believing it.

How can you not love the fact summer atmosphere and crisp and the picturesque charm of Cala Rossa? While presenting some ´discomfort´ like rocks too sharp in some places and little shade, Cala Rossa is regarded by many as the most beautiful beach in absolute Favignana.

It ´the same opinion Trip Advisor that it has crowned the most attractive beach of Favignana, by 145 votes to classify it as´ excellent´. Among the reviews on this site are obviously also listed some of the most significant shortcomings of the cliff, which is indeed not for the faint of heart, for families with small children and lazy people who do not feel like walking too.

Just next to the cliff you can reach a small beach of sand formed due to ocean currents that transported sand and gravel directly from the coral reefs surrounding Favignana, however, it is preferable to reach it by boat or by swimming rather than walking, because the descent formed by rocks is quite steep and craggy.

Finally, we invite you to visit it to enjoy all the quaint charm of Favignana and, more particularly, of Cala Rossa!
PLACE OF THE EVENT
---
Cala Rossa in top 17 tra le spiagge più belle
---
COMMENT "CALA ROSSA IN THE TOP 17 AMONG THE MOST BEAUTIFUL BEACHES"
---
IN ADDITION TO "CALA ROSSA IN THE TOP 17 AMONG THE MOST BEAUTIFUL BEACHES" MAYBE YOU MAY ALSO BE INTERESTED IN THESE ARTICLES?