---
GIOVANNI ALLEVI IN TRAPANI
---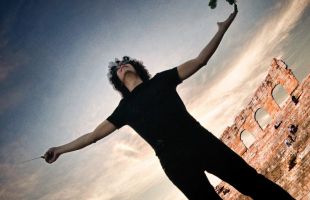 ---

---
Trapani is preparing to welcome a musician who stands out for a long time for his eccentricity, his being an out of class with charm and create quality music: we are talking about Giovanni Allevi.

The musician is in fact bringing his music in different squares and theaters of Italy for its Sunrise Tour 2013 tour that sees as its stages also to Taormina and Palermo as well as Trapani.

The event promises to be exciting and, needless to say, will give viewers the style and class of which only Allevi has: his music poignant and at times brilliant, witty and sparkling, exciting and impetuous. This is much more is the music of Giovanni Allevi, now ready to perform at its tenth concert tour that sees the environment as a distinct and fascinating Teatro Giuseppe di Stefano.

On August 23, therefore, an evening not to be missed at the Teatro Giuseppe di Stefano: the show will start at 21.30.

And ´course can request more information to the email info@lugliomusicale.it, you simply need to contact for pre-sales at the box office in Viale Regina Margherita.

The exciting musical charm of Breed seduce you too!
PLACE OF THE EVENT
---
Giovanni Allevi a Trapani il 23 Agosto
---
COMMENT "GIOVANNI ALLEVI IN TRAPANI"
---
IN ADDITION TO "GIOVANNI ALLEVI IN TRAPANI" MAYBE YOU MAY ALSO BE INTERESTED IN THESE ARTICLES?