---
THE ´SOUTHERN VOICES´ SING IN FAVIGNANA
---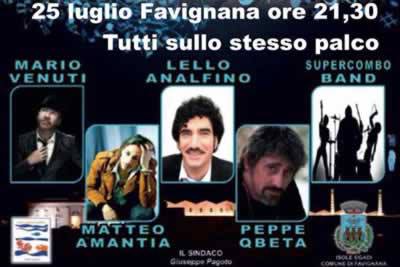 ---

---
´Voices of the South´ is a musical event that will take place in Favignana and aims to bring to life an evening of good music to those who participate, not without dramatic effects and vocals very well known at national level.

On July 25, therefore, all the square Barraco, near the bay of the harbor! From there you will be able to attend the concert on board the various boats.

The names that stand out most among the singers who will perform are those of Mario Venuti (voice and appeal much appreciated and recognized throughout Italy for his skills as a songwriter), but also Lello Analfino (leader of Tinturia), Peppe Qbeta the SuperCombo Band and Matthew Amantia, will be the key talents that lend their music and voices to the event ´voices of the South´.

Just as Sicily is an encounter between cultures that are very different from each other, a mix of races that has lasted for centuries, the concert ´Voices of the South´ is intended to present many different styles to them, but eventually merge creating something greater, a result of the height of the artistic power of the musicians who will perform.

Shortly before the event, which will start at 21.30, there will also be a press conference in which Lello Analfino will also present a demonstration in the programming phase, scheduled for September this year and will combine music, food, wine and culture, called ´notes in ´island of the wind´.
PLACE OF THE EVENT
---
Il 25 luglio alle 21.30 le Voci del Sud canteranno al piazzale Barraco, a Favignana
---
COMMENT "THE ´SOUTHERN VOICES´ SING IN FAVIGNANA"
---
IN ADDITION TO "THE ´SOUTHERN VOICES´ SING IN FAVIGNANA" MAYBE YOU MAY ALSO BE INTERESTED IN THESE ARTICLES?