---
KURT ROSENWINKEL AT THE SAN VITO JAZZ ´13
---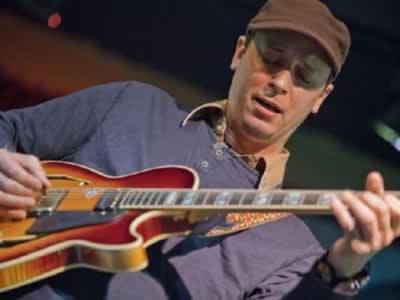 ---

---
In this article we will know a bit ´better Kurt Rosenwinkel, jazz artist of international fame who will perform at San Vito Jazz ´13 on July 26.

Kurt is primarily a jazz guitarist, was born in the United States, specifically in Philadelphia and right there ´began to passionately to this fascinating musical genre, jazz. Since the nineties Kurt began to emerge and create their own niche of fans, which gradually has been expanding so much so that today we can say that Kurt Rosenwinkel is one of the world´s leading jazz guitarists of his generation.

And ´in fact was often compared to prominent figures, historical innovators of the same kind as Pat Metheny, John Scofield, Bill Frisell and others, to which species in his early years he drew inspiration from jazz, but from which he has departed leaving out a His personal style most closely to jazz 40s and 50s such as Lennie Tristano. Of course we are talking about a professional, and as such has developed techniques and musical idioms really advanced and complex, with complicated arrangements.

His talent for jazz led him to attend the Berklee School of Music, School of Music who then abandoned to devote himself to a tour with Gary Burton, a big jazz 80s. Then he made several trips up to land in Brooklyn, the city where he perfected his style masterfully until you get into the spotlight and make itself heard thanks to artists such as ´The Human Feel´, Joe Henderson Group, the Brian Blade Fellowship, Paul Motian´s Electric Bebop Band, with whom he collaborated several times over the years.

His golden years of jazz were then crowned with several awards, one of the many award´´´´ Composer´s Award from the National Endowment for the Arts.

Afterwards he began to collaborate with various record labels and recorded several albums as a soloist and as a group leader, or as a simple guide. In 2005 he conceive the album ´Deep Song´ which will see him collaborate with the likes of Mehldau and Joshua Redman.

Therefore expect to see play at San Vito Jazz this little music star, who definitely will propose interesting pieces of musical value as those of his latest album, "Star of Jupiter."


PLACE OF THE EVENT
---
Andiamo a conoscere un po´ meglio il chitarrista jazz Kurt Rosenwinkel
---
COMMENT "KURT ROSENWINKEL AT THE SAN VITO JAZZ ´13"
---
IN ADDITION TO "KURT ROSENWINKEL AT THE SAN VITO JAZZ ´13" MAYBE YOU MAY ALSO BE INTERESTED IN THESE ARTICLES?