---
SEA TURTLE RESCUED IN FAVIGNANA
---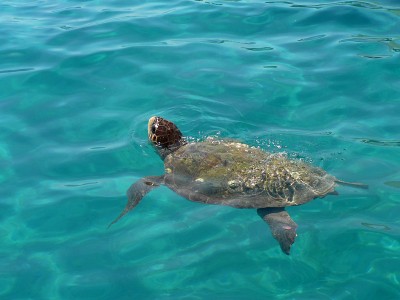 ---

---
Last week in the port of Favignana was found ´Welcome´, an interesting specimen of sea turtle breed called ´Caretta´. The discovery was saving for the turtle that due to unfortunate ingestion of harmful material, no longer able to dive underwater. The intervention was carried out by a yachtsman, who managed to successfully retrieve the beautiful female specimen of about 60 pounds and 70 inches long, safe and sound down to the beach of Praia where Since then, the Coast Guard of Favignana , as well as the staff of the AMP (Marine Protected Area), followed by the volunteers of the Legambiente Egadi whose care then the turtle has been entrusted. On the possible causes of her little ´accident´ of course you´ve made a lot of assumptions but the most likely is that he inadvertently ingested a line or a hook. Following Welcome was delivered to the volunteers of WWF Italy and after having cared for they took at the first aid center for animals in Lampedusa, where the turtle seems to have recovered.

Some time before this rescue, another specimen of Caretta approximately 30 cm in length was relief in Favignana and later transferred to the Lampedusa center for emergency relief. The turtle in fact reported a number of injuries but have apparently been cured, in fact the specimen is already preparing to return to its natural rhythms, then will be reported in the waters of Favignana, marine protected area.
PLACE OF THE EVENT
---
Tartaruga marina salvata a Favignana
---
COMMENT "SEA TURTLE RESCUED IN FAVIGNANA"
---
IN ADDITION TO "SEA TURTLE RESCUED IN FAVIGNANA" MAYBE YOU MAY ALSO BE INTERESTED IN THESE ARTICLES?