---
11 MAY MUSIC AND ART FOR MADAGASCAR BY EUFONIA
---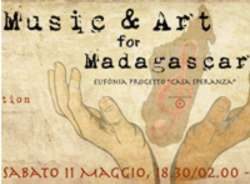 ---

---
On May 11, Piazza Ciullo Alcamo is hosting the first edition of "Music & Art for Madagascar by Euphony - House Project Hope", which will take a leading role in the music and art come together for one purpose: to give a help to the people of Madagascar. It will be a pleasant evening in which various artists will present their works in Stand mounted inside the square, and through painting, photography and other arts will try to make their contribution to the noble cause. Five bands will perform on stage: Critical solution - Glenda's Band - Crash Tuna - The Quavers - euphony, which with their notes regaleranno unique emotions to the participants. Unless and Alessia (two conductors of Radio Amica extremely nice) entertain the audience, from 18.30 to two in the morning.
PLACE OF THE EVENT
---
11 Maggio Music and art for Madagascar By Eufonia
---
COMMENT "11 MAY MUSIC AND ART FOR MADAGASCAR BY EUFONIA"
---
IN ADDITION TO "11 MAY MUSIC AND ART FOR MADAGASCAR BY EUFONIA" MAYBE YOU MAY ALSO BE INTERESTED IN THESE ARTICLES?