---
VIVITRAPANI APRIL 14
---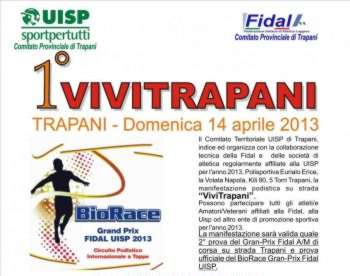 ---

---
Will take place Sunday April 14 in Trapani the first official test of the "Grand Prix BioRace FIDAL UISP 2013 '. circuit organizers BioRace Hundreds of athletes will enjoy the architectural beauty scattered along the path citizen housed in the historic center of the city of Trapani. The event, which will start at 10.30 from Piazza Vittorio Veneto on the distance of 8km, will be preceded by a non-competitive targeting at the youth and athletes with disabilities. Among the more than two hundred athletes will see the participation of the two new champions regional UISP (Italian Union of Sport for All) half marathon Port Philip and Nicoletta Fosco, won the title in Palermo VIVICITTA which took place last Sunday.
PLACE OF THE EVENT
---
Si correrą domenica 14 aprile a Trapani la prima prova ufficiale del
---
COMMENT " VIVITRAPANI APRIL 14"
---
IN ADDITION TO " VIVITRAPANI APRIL 14" MAYBE YOU MAY ALSO BE INTERESTED IN THESE ARTICLES?