---
VISIT THE WEBSITE OF PREHISTORIC CONTRADA STRAIT.
---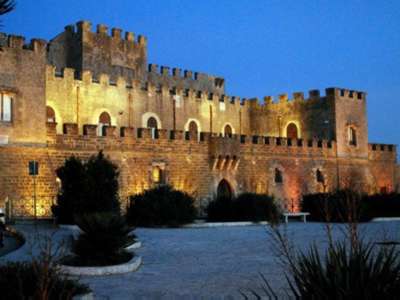 ---

---
As of April 15, 2013 you can visit the site of Prehistoric Contrada Strait in Partanna from Tuesday to Sunday from 9.00 to 13.00 and from 16.00 to 18.00.
The site includes the remains of an important prehistoric Neolithic human settlement of Sicily.
The area has been designed for use by visitors and at the same time it continued the excavations.
The Visitors Center, located at'' entrance of the archaeological site, home to educational installations, exhibitions of artifacts, services for visitors and archaeologists.
The tour continues with a visit to the Castle Grifeo - Museum of Prehistory of the Lower Belice, housing, demo-ethno-anthropological heritage dating back to the peasant culture of our country, and prehistoric Bronze Age found in Contrada Strait.
In the armory you can visit the gallery of the castle in which is displayed a sixteenth century altarpiece depicting the Madonna Del Rosario.
You can also visit the cellars of the Castle with the majestic barrels and travel the underground consisting of narrow tunnels carved into the stone.
Admission is free for students and teachers, provided they have a list with permission of the Headmaster.
The accompanying persons will have to purchase at the ticket office of the Castle, a ticket, which costs € 4 for non-residents in the province of Trapani and € 1 for the residents of the same.
For contacts and reservations, please contact: Office Castle Grifeo: 0924/923970
PLACE OF THE EVENT
---
A partire dal 15 Aprile 2013 sarà possibile visitare il Sito Preistorico di Contrada Stretto a Partanna.
---
COMMENT "VISIT THE WEBSITE OF PREHISTORIC CONTRADA STRAIT."
---
IN ADDITION TO "VISIT THE WEBSITE OF PREHISTORIC CONTRADA STRAIT." MAYBE YOU MAY ALSO BE INTERESTED IN THESE ARTICLES?