---
CARETTA TOURTLE NEST BACK IN TRAPANI
---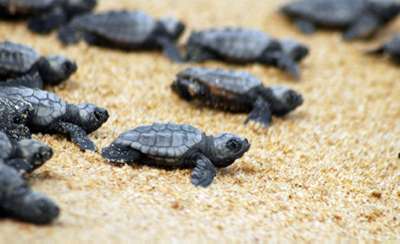 ---

---
After 20 years, the loggerhead turtle returns to nest on the coast of Mazara del Vallo the province of Trapani.

The beach of Tonnarella was the star of this miracle of nature that has seen 35 baby turtles leave their nest, buried in the sand, and take to the sea running into the wonderful adventure that is life.

In fact, the nesting took place in August and since then, the WWF volunteers assisted by the military of the harbor had garrisoned the area of ​​the nest to ensure the young turtles hatching.

35 new pieces so they're going to swim in the waters of the Mediterranean Sea thanks to the province of Trapani.

The loggerhead turtle is well known in the waters off the province of Trapani thanks to Reserve Egadi Islands that in recent years has recreated a safe habitat for various marine species native to where the Caretta Caretta part.

Unfortunately this species, as well as many others in the Mediterranean is constantly at risk the difficult coexistence between man and nature even if there is to be recorded, in recent decades, a greater focus on the added value of native flora and fauna can give to the tourism sector.
This new awareness has meant, thankfully, that the protection of the natural heritage has become a topic on the agenda in search of a nature tourism increasingly in demand and easy to integrate, cost-effective, within the territory of the tourist .
PLACE OF THE EVENT
---
La nidiata, deposta i primi di agosto si è schiusa lasciando correre verso il mare 35 nuovi esemplari di tartaruga.
---
COMMENT "CARETTA TOURTLE NEST BACK IN TRAPANI"
---
IN ADDITION TO "CARETTA TOURTLE NEST BACK IN TRAPANI" MAYBE YOU MAY ALSO BE INTERESTED IN THESE ARTICLES?