---
MARINE RESERVE EGADI ISLANDS
---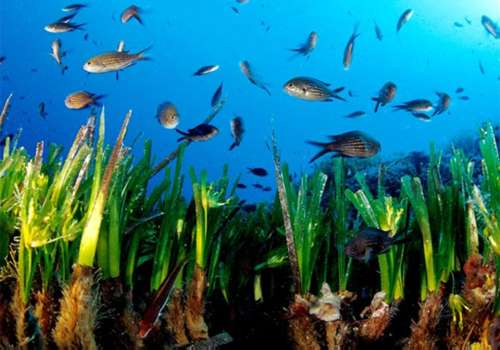 ---

---
The sea of ​​Favignana and Egadi islands lends itself to various levels of use.

You can find out as a seaside resort, lying on sandy beaches in fulfilling moments of relaxation.
It ┤s possible, for the more daring, defying heights breathtaking dives from the cliffs.

But there is a hidden and deep sea accessible directly to someone involved in scuba diving.
This beach is protected by the "Egadi Islands Marine Reserve" where fishing is prohibited and navigation is strictly controlled.

This marine reserve, which is the largest marine reserve in Europe (almost 54,000 acres) is located in the municipality of Favignana and it houses the most representative species of the Mediterranean.

Everything starts from the base of the ecosystem: the Posidonia Oceanica.
These benches are a little vegetable equivalent of the reef to the tropical seas, providing refuge from predators in a variety of native species within the banks that are protective and nurturing.
The meadows of Posidonia, as well as providing the basis of the ecosystem of the Egadi Islands Marine Reserve, it is also the main lung, supplying, through the process of photosynthesis, the water of oxygen, essential for life.
Finally, the sea grass, is an excellent biomarker and its presence testifies to the health of the sea and its cleanliness.

Going so the biological chain, in the Egadi Islands Marine Reserve you can see different types of fish, crustaceans and molluscs, among whom are mentioned bream, lobster, octopus, squid, rockfish, snapper, moray eels, sea urchins, shrimp.

In addition, more and more sightings are turtle Caretta caretta , dolphins and monk seals.

In recent years, due to the heating of the Mediterranean there have also been sightings of tropical fish.

The Egadi Islands Marine Reserve is between the islands of Favignana , Levanzo, Marettimo also including the 2 micro islands of Formica and the rock Maraone and is divided into 4 zones with special features access, and use different permissions for which you need to contact the AMPI at the premises of the municipality of Favignana.
PLACE OF THE EVENT
---
Il mare di Favignana e delle Isole Egadi si presta a vari livelli di fruizione.
---
COMMENT "MARINE RESERVE EGADI ISLANDS"
---
IN ADDITION TO "MARINE RESERVE EGADI ISLANDS" MAYBE YOU MAY ALSO BE INTERESTED IN THESE ARTICLES?