One of the most representative monuments of Trapani is certainly the church of Sant´Agostino, located in the heart of the historic center of Trapani, right next to Palazzo Cavarretta.

Around the year 1000, before the establishment of the Diocese of Trapani, Trapani was considered a suffragan area compared to Mazara del Vallo, the city where the bishop resided.
The church of Sant´Agostino was therefore considered the mother church of the city; the place where the ancient Senators met for the celebration of Mass.



Built in 1101, near the city walls, the building was first dedicated to John the Baptist under the administration of the Knights Templar, an ancient religious order of chivalry engaged in the exercise of works of charity. Only two hundred years later, in 1312, when the Order of the Templars was dissolved imperiously by Clement V with the aftermath of persecutions passed down in history, the building passed under the conduction of the order of Saint Augustine.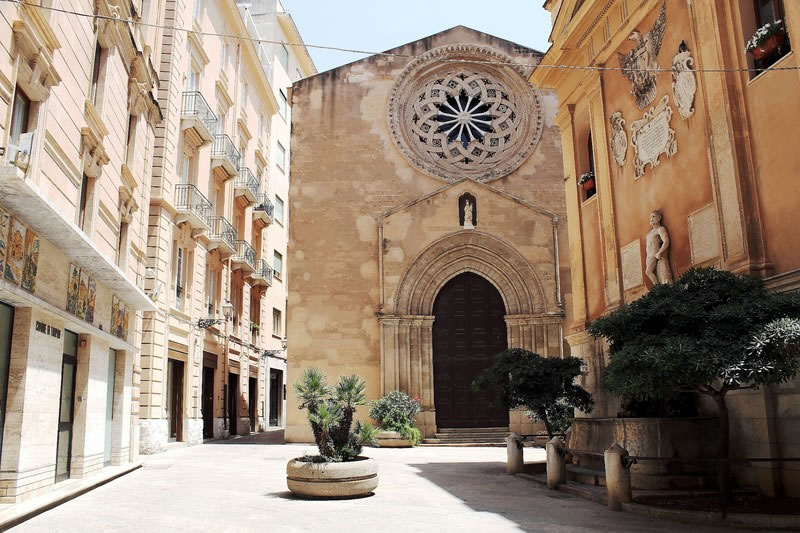 World War II saw the church heavily bombed. The ancient bell tower ended in rubble, as did the apse and part of the nave. These devastations led to the closure for long years and only afterwards, following important reconstruction works, the church was reopened although strongly modified in its original physiognomy.
The north door disappeared, as did the other entrance that led into the cloister of the former convent of the Hermits of St. Augustine.

Today, the visitor who passing through Trapani found himself in Piazzetta Saturno, home to the fountain depicting the pagan divinity of the same name, cannot fail to admire the splendor of the rose window that decorates the main facade of the church. With the stones from the ancient quarries of Pietretagliate, the Trapani master craftsmen have carved and assembled what is now considered one of the most artistic symbols of the city of Trapani.

The rose window is made up of arches that intertwine in a fluid radial movement, converging at the center towards the bas-relief of a lamb which, in the Christine symbolism a represents Christ. In the intersections of the arches it is possible to identify symbols that refer to the three great monotheistic religions, set in a floral weave reminiscent of Eden.

Strongly representative of the historical and innate multiculturalism of the city, the rose window was chosen as a logo to represent Trapani´s 2021 candidacy as a city of Italian culture.