---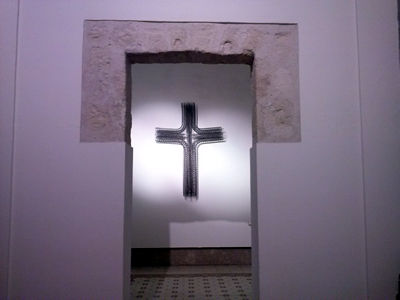 ---

---
On Saturday evening, whist taking a walk around the city centre of Trapani, it is possible to come across little known places, which prove to be, however, attractive and fascinating.

This happened to me when I discovered Museo San Rocco completely by chance as I was passing by one evening.

Situated in a sidestreet, the Oratorium of San Rocco has had a troubled existence.
Founded as a church between 1564 and 1860, the building became the first provincial Post Office, later bombed during the Second World War, it wasconverted into the office of Hygiene and Prevention, home to several educational institutions and the State Archives .
Only in recent years, thanks to voluntary contributions, has the premises been restored to face this new metamorphosis that has turned it into a hybrid between a place of worship and a museum of modern religious art.

And the restoration is immediately evident in the contrast between the ancient stones and modern ones that cover the white walls. The old floors have been maintained and the rooms, all in communication with each other, give a sense of freedom of movement within the museum/church.




After passing the first room, the one used for worship, you go into museum wing that is a triumph of imagination and human creativity.

The religious theme, which runs through the exhibition with particular emphasis on the symbolism of the cross, is reviewed in a modern and imaginative way, creating works of great aesthetic value which stimulate the intellect of the viewer.




The cross is revived in shades, materials and new and innovative concepts and, through a clever use of lighting, you can multiply the visual effect and add pathos to the works which are already suggestive in their nature.

The tour lasts about ten minutes but it is very intense and evocative.
We went on a Saturday night but, when we talked to the caretaker, we learned that the premises are closed in the morning.
If you visit the museum, keep this in mind

- Here you will find the photogallery


---
COMMENT "A VISIT TO SAN ROCCO MUSEUM."
---
IN ADDITION TO "A VISIT TO SAN ROCCO MUSEUM." MAYBE YOU MAY ALSO BE INTERESTED IN THESE ARTICLES?
Hotel-Trapani.com
P.I. 02195840810